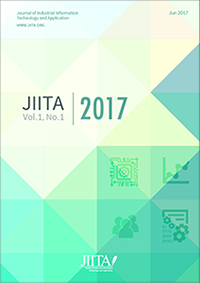 Journal of Industrial Information Technology and Application
(JIITA) is an international academic open access journal which gains a foothold in Asia and opens to the world. It aims to promote the integration of machine learning and computing. The focus is to publish papers on state-of-the-art machine learning and computing. Submitted papers will be reviewed by technical committees of the Journal and Association.
All submitted articles should report original, previously unpublished research results, experimental or theoretical, and will be peer-reviewed. Articles submitted to the journal should meet these criteria and must not be under consideration for publication elsewhere. Manuscripts should follow the style of the journal and are subject to both review and editing.
---
Notice
– We are currently accepting applications.

---
 Volume. 1, Number4, Dec, 2017
Current Controller Design of a Phase Shift Full Bridge Converter for High Current Applications
Tat-Thang Le, Minwon Park, and In-Keun Yu / pp.52-63
---
Combined Control Algorithm for a DC-DC Converter of PV & Battery for Mongolian Nomadic Life
Tuvdensuren Oyunjargal, Tat-Thang Le, Minwon Park, and In-Keun Yu / pp.64-71
---
Controller Design of a Three-phase Four-wire PV PCS with Unbalance Load Compensation Function
Dinh-Vuong Le, Byeong-Soo Go, Minwon Park, In-Keun Yu / pp.72-80
---
 Volume. 1, Number.3, Oct, 2017
Facial Expression Recognition using Region-SIFT
Hyunduk Kim, Sang-Heon Lee, Myoung-Kyu Sohn, Byunghun Hwang, Hyunseok Choi / pp.34-39
---
A Study on Objective Schedule Estimation for Software Development Projects Based on the Constructive Cost Model (COCOMO)
Geumchae Yoon, Donghwoon Kwon, Ki Pyung Kim, Ilnam Jeong / pp.40-45
---
An Enhanced Loitering Detection Scheme with Looking-Around Feature
Yonghwa Kim, Yoo-Sung Kim / pp.46-51